Dunes Body Bar Soap
Regular price

$14.00
Sale price
Pickup currently unavailable
Share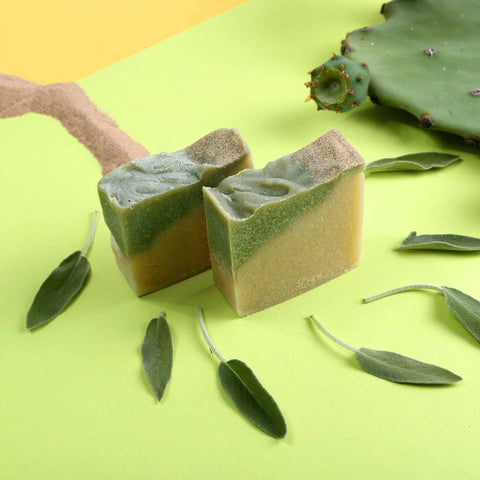 Dunes is a soap bar that'll take you on a tranquil journey through the deserts of Mexico. This journey will help you form a deeper connection with your inner self. You'll come out of this journey with newfound confidence because of your renewed, glowing skin. The sand from the Samalayuca desert in Northern Mexico will gently exfoliate your skin to bring out your natural glow. The enrichment from the cactus oil will hydrate your skin with Vitamins A, E, and K to make it feel softer than ever. It's got extra nourishment from Spirulina, an ancient superfood that's enriched Mexican cuisine for centuries.

Let your skin drink in the nourishment from this soap as your mind rests. Feel yourself connect with your true self as this soap's calming scents waft through your senses. The most prominently serene scent of the Palmarosa flower will captive you and make you forget about your troubles for a bit. It'll encourage you to traverse through an empty desert and not the bustling streets of your mind.

We're deeply rooted in the cultures we strive to honor. Our products are traditionally processed with minimal interference to let them retain their healing benefits. We make our products in small batches to give you the best and freshest ingredients. We carefully craft our products using botanical ingredients with proven benefits. They're enriched by deep herbal scents and rich textures that stimulate your senses so you can form a deep connection with yourself.

Skin type
This is ideal for Normal to oily skin types.
Ingredients
This soap is a captivating mix of ancient ingredients with fresh scents that rejuvenates your senses

Olive Oil, Water, Coconut Oil, Castor Oil, Babassu Oil, Sodium Hydroxide, Sage Oil, Sand, Cactus Blossom Oil, Cactus Sodium Lactate, Spirulina & Titanium Dioxide.
Details
Dimensions
3 in X 1 in X 3 in each.
Weight
4.5 oz each.
Where has this been all my life?
With this soap - I am a customer for life! My face saw immediate results and cleared up my pores very nicely. This is a great natural alternative to the stuff they sell with all those chemical at other stores.
Great product all around
I purchased the Dunes Body Bar Soap and could not have been more pleased with the scent and feel. It smells like a fresh desert rain shower and has just the right balance of exfoliation and lather. I definitely feel refreshed after each use!
Lovely
The soaps are lovely. Moisturize very well, smell divine and make my skin sing!
The dunes body bar is incredible! Not only aesthetically gorgeous, but the texture wasn't superabundant and it smells lovely.
love this lightly exfoliating bar. leaves my skin feeling refreshed and soft, while the desert aroma takes me to another place.